The original Auto Crane, introduced in 1958, was designed to fit in the trunk of an automobile. "Hot Shot" cars, used for the delivery of oil field equipment, could load and unload heavy drill bits and valves with ease and safety. It was an instant success and Auto Crane has been growing ever since.
Today, Auto Crane, offers a wide variety of electric and hydraulic telescopic crane models in different capacity ranges, from the Auto Crane 1 to the heavy duty hydraulic 72k.
Their commitment to excellence has been recognized by electric and hydraulic truck mounted crane users in various industries throughout the world.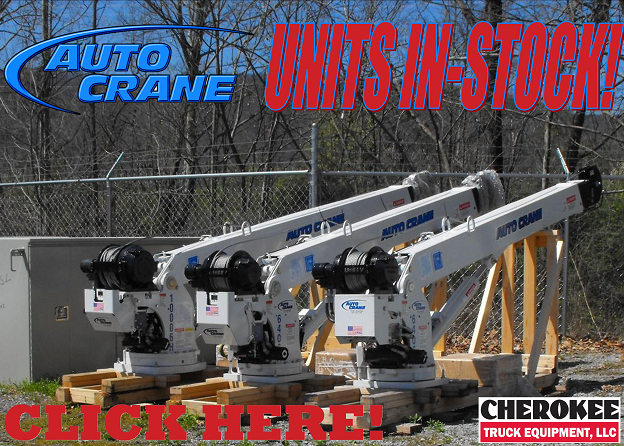 Auto Crane Service Cranes
Auto Crane — best in all classes. On all counts.
As the pioneer and leading name in innovation for over 55 years, Auto Crane sets the industry standard in telescoping service cranes.
Safety — the absolute safest service crane available, protecting people from injury and property from damage.
Performance — the capability to lift 100% of the crane's load capacity.
Productivity — fast and efficient load handling operations.
Longevity — proven in the field under heavy-duty demands, delivering long-term service life and lowest total cost of ownership.
Innovation. Safety. Productivity.   Auto Crane — the brand that's proven decade after decade to have the lowest cost of ownership. Engineered First. Engineered to Last.
Electric
Electric over Hydraulic
Hydraulic
Titan™ Crane Bodies
Better by design crane bodies built for the way your work.
Fleet managers and operators agree Auto Crane Titan crane bodies stand up to the most rigorous daily demands of safety, reliability, utility, efficiency and longevity. In fact, the innovative Titan crane body is engineered to out-last and out-work any truck it's mounted on. When paired with an Auto Crane service crane and the NexStar® crane management system, Titan bodies form the safest, strongest system out there. Confidently handle your load with our versatile Titan crane body capacities from 16,000 – 70,000 ft-lb, and Auto Crane lifting options from 2,000 – 14,000 lb. Titan is the field-proven choice for the challenges you face every day.
Built For Purpose         The Titan Advantage
Accessories
Auto Crane service truck body accessories optimize time in the field.
Engineered for rugged dependability, the Auto Crane line of service truck accessories are designed to enhance work flow and maximize productivity.
Air Compressors Reciprocating or rotary screw hydraulic drives available.
Lube Skids Field maintenance versatility, portability and economy.
Saddles Built-for-purpose specialty stowage.